Be aware that the simple plastic bag or other fine plastic films scattered around your house can be deadly to babies and young children.
7. Plastic Bag Suffocation Warning Labels. The U.S. Consumer Product Safety Commission (CPSC) has received an average of about 25 reports a year describing deaths to children who suffocated due to plastic bags. Almost 90% of them were under one year of age. Source: HelpKeepKidsSafe.org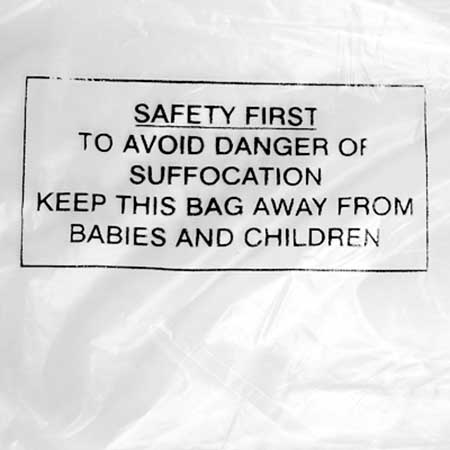 According to CPSC, some of the deaths were attributed to situations wherein the baby crawled into a plastic garbage bag or when a child pulls a plastic dry-cleaning bag over their face. In some instances, a plastic garbage bag fell over the baby's face and mouth while he/she was lying on a bed. Garbage bags also have also resulted to deaths when a baby climbed into them or rolled onto them while sleeping.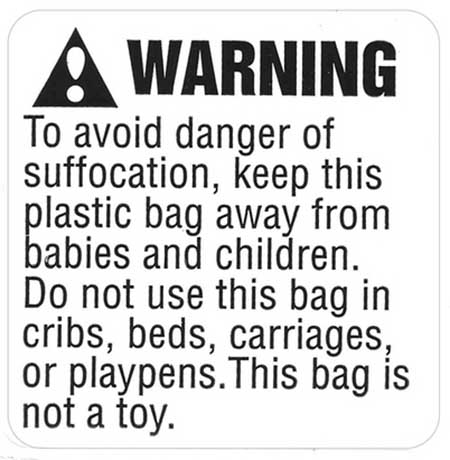 What you can do according to KidsHealth.org:
1. Never put an infant down on a mattress covered with plastic or on or near a plastic bag.

2. Promptly dispose of plastic shopping bags and plastic dry-cleaning bags. Tie several knots in each bag before throwing it out.

3. Keep all plastic bags, including garbage bags and sandwich-style plastic bags out of the reach of young kids.

4. When cleaning up after a birthday or holiday party, pay special attention to all plastic bags from packaging. Collect them and throw them out immediately.
The next warning label has something to do with things children love playing with.
Every child loves to play with toys. Just make sure to check the warning labels.
8. Toy Parts Choking Hazard Warning Labels. In 2011, 188,400 children under the age of 15 years were seen in emergency departments for toy-related injuries.That's 516 kids every day. More than a third of those injured were children 5 and under. Source: SafeKids.org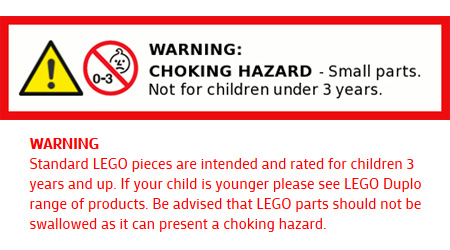 Here's what you can do: Be a toy label reader and make sure to buy toys which are age appropriate. Make sure to make your family aware that toys with small parts should not be left out where babies and toddlers could get their hands on them.
Here are other safety tips courtesy of SafeKids.org:
1. Consider your child's age when purchasing a toy or game. It's worth a second to read the instructions and warning labels to make sure it's just right for your child.

2. Before you've settled on the perfect toy, check to make sure there aren't any small parts or other potential choking hazards.

3. Keep a special eye on small game pieces that may be a choking hazard for young children. While these kinds of games are great for older kids, they can pose a potential danger for younger, curious siblings.
If you have babies, toddlers, and really young children in your house, you might like to be aware of this type of window blind …
Parents, please beware of corded window blinds …
9. Window Blinds Cord Warning Labels. According to the U.S. Consumer Product Safety Commission (CPSC), an average of 10 children die every year from window-blinds-cord related accidents.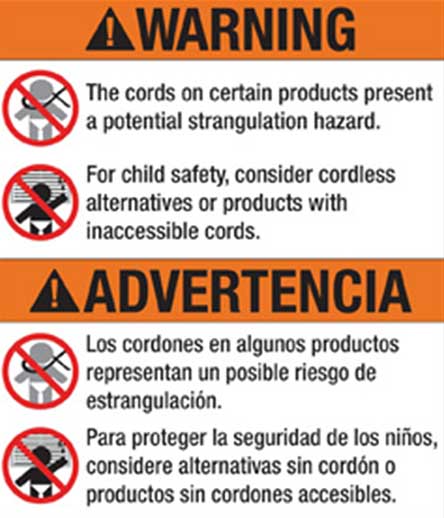 While not a product targeted toward children, window blinds are an example of a household product that needs to be carefully designed in order to prevent harm to children. Unfortunately, the failure of window blind manufacturers to take children into account has led to the serious injury or wrongful death of many infants and toddlers. Window blind cords hang too low, get wrapped around a child's neck and cause the child to choke. Source: ChildSafetyIllinois.com
Not convinced yet? You can check out this story about a child who was strangled by a window-blind cord. Fortunately, the child survived.
Here's what you can do to prevent accidents from window-blind cords according to Home Depot:
1. Raise all window cords out of a child's reach

2. Move all cribs, beds, furniture and toys away from window cords

3. Inspect cord-stops for proper install and function

4. Permanently anchor continuous-loop cords to the wall

5. Update with a retrofit, safety kit, or replace older blinds with a cordless option
"If I Only Knew" …
Some people might say that these are all common sense. The reality is that what may be common sense to one parent might not be common sense to another. That is why we wrote this article just to spread awareness.
A child's safety is more important than anything else. Just do not compromise safety for convenience. Always pay attention to safety labels and signs. They are there for a reason.
Let's avoid hearing the words "If I only knew" from an anguished parent whose child was a victim of an unfortunate and preventable accident.
Please help create safety awareness by sharing this article with family and friends. Save a life by sharing this article. The life you save may be your child's or someone close to you.
Again, let us all keep our children safe.
Are there any warning labels or signs that you are aware of that we should have included in this list?

Love This? Like Us on Facebook.