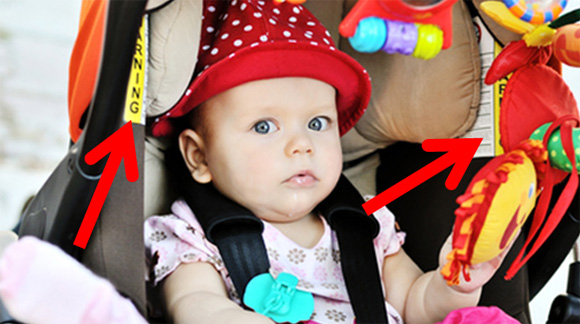 Warning signs and labels are there for a reason: To keep your child safe. Unfortunately, it might come as a surprise to you that a lot of people tend to still ignore these at the expense of their child's safety.
As parents, the SAFETY of our children should be our top priority. However, why is it that some parents appear to not pay much attention to safety warnings? Could it be the lack of awareness regarding safety standards? Could it be a sense of complacency that nothing bad could possibly happen? Some people even reason out that making the extra effort for safety is just so inconvenient. Really?
Whatever the reasons are, the fact is … children are getting hurt. Some seriously. And unfortunately, some end up losing their lives.
Please DO NOT ignore these everyday warning signs and labels. Your child's life is way too important to take chances with.
Here is the list of warning signs and labels every parent with a young child should not ignore. From shopping malls to the grocery stores, you will still find parents blatantly ignoring this warning sign right underneath their noses …
1. No Baby Car Seat on Shopping Cart Warning Sign. Although a voluntary shopping cart safety standard was implemented in the United States in 2004, the overall number and rate of injuries to children associated with shopping carts have not decreased. In fact, the number and rate of concussions/closed head injuries have continued to climb. Source: EurekaAlert.org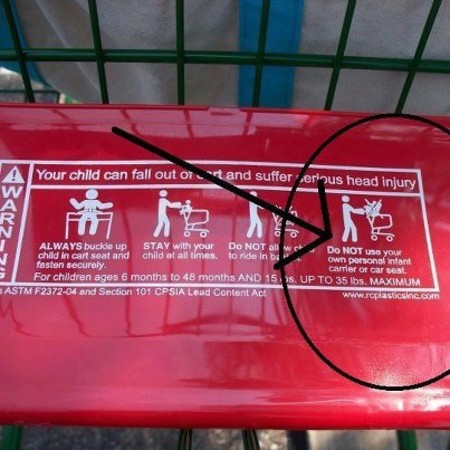 Baby car seats are NOT designed to be secured on top of shopping carts. The next time you use a shopping cart while doing groceries, check and see if there is a warning sign saying that baby car seats should not be placed on top of shopping carts. If you see a warning sign, just don't do it.
Even the American Academy of Pediatrics highly recommends not to place baby car seats on shopping carts due to the potential dangers associated with the practice. Their recommendations are warranted given the risks and dangers of this common practice.
Shopping carts can tip over easily — and they're more likely to if there's a car seat mounted on them.
Debra Holtzman, who is also the author of The Safe Baby, adds:
The cart has a narrow wheel base in relation to its height, so the center of gravity is affected when you put a child in it," she says. "When your child's car seat is on top of it, the center of gravity is affected even more, increasing the chances of tipping. Source: TheBump.com
Also make sure to check the manual of your baby car seat and check the warning label to confirm that the car seat should not be used on shopping carts.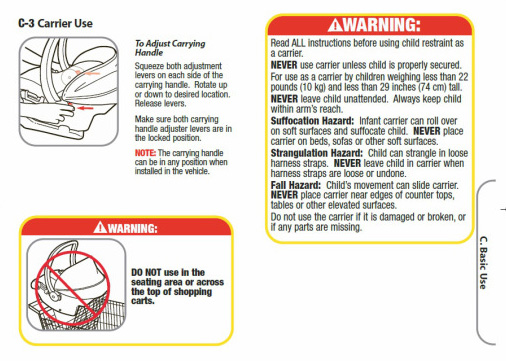 If your baby carrier manual warns you not to do it and the shopping cart you are using has the warning sign, then please DON'T place the baby carrier on top of the shopping cart.
The American Academy of Pediatrics highly recommends NOT to place car seats on shopping carts and suggests the following options:
Get another adult to come with you to watch your child while you shop.

Put your child in a stroller, wagon, or frontpack instead of in a shopping cart.

Ask your older child to walk and praise him or her for behaving and staying near you.

Leave your child at home with another adult while you shop.

Shop online if your store offers shopping on the Internet.

Never leave your child alone in a shopping cart.

Do not let your child stand up in a shopping cart.

Do not allow an older child to climb on the cart or push the cart with another child in it, because it is very easy for a child to tip the cart over.
Next time you go to the mall, you might like to observe if some parents pay attention to this warning sign.
There are still some parents who seem to not pay attention to these warning signs in shopping malls.
2. No Stroller on Elevator Warning Signs. Escalator manufacturers and building owners frequently place prominent signs near escalators warning riders not to board with strollers, walkers, or carts. Other accidents involving strollers include strollers being dropped down the escalator and strollers becoming entrapped with the escalator. Source: ElevatorAccident.net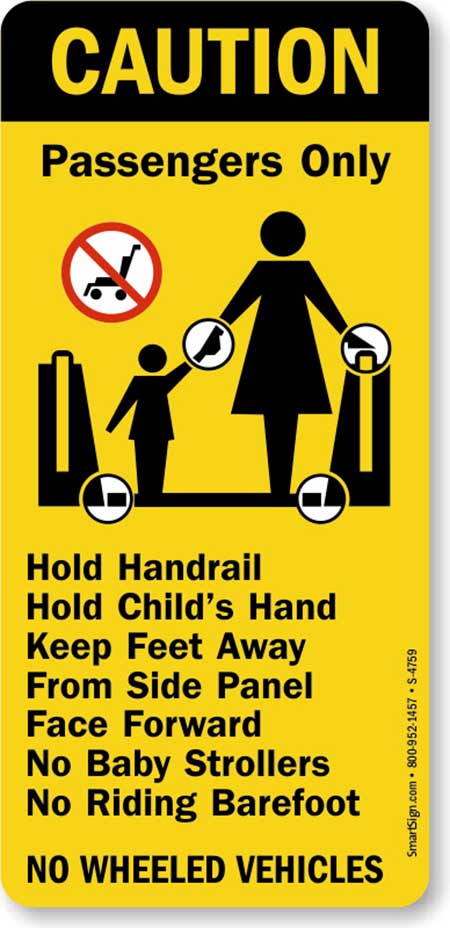 There are very real dangers to boarding strollers on escalators such as this story, where a small child fell from a stroller while on the escalator.
A 2006 study on Pediatrics regarding escalator injuries found that there were "disproportionate amount of escalator related injuries in children who were younger than 5 years of age." … The study found that 6% of injuries in this age group were from a stroller, usually from falling out of the stroller. Source: PediatricsNow.com
Solution: Simply take the extra time to use the elevator with your stroller as opposed to the escalator.
Are you sure you have your child buckled up properly? Check out the next warning label on the next page …

Love This? Like Us on Facebook.