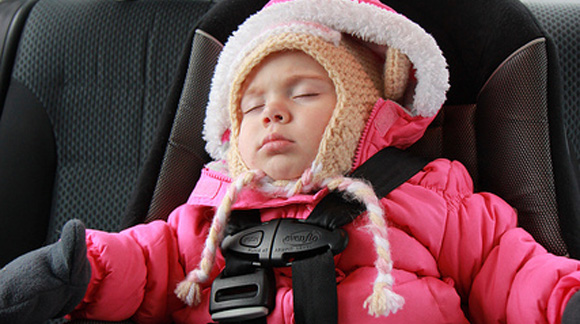 It's winter time and it's freezing. As parents, we simply want to make sure that our child is warm, cozy, and most of all, safe. However, having your child wear a warm, puffy jacket while strapped into a car seat is the last thing you should be doing. You think your child is safe and warm, right? Well, what you really are doing is setting them up for possible life-threatening danger.
Car seat safety should really be taken seriously. According to statistics from the Center for Disease Control Prevention (CDC) and the National Highway Traffic Safety Administration (NHTSA):
In the United States during 2013, 638 children ages 12 years and younger died as occupants in motor vehicle crashes, and more than 127,250 were injured.
While reporting on this danger, Today Show national investigative reporter Jeff Rosen admitted:
I have small kids and it turns out I make this mistake every winter. I had no idea.
When your child has a puffy winter coat on, the car seat harness won't be snug and tight. This therefore puts them at risk of being ejected from the car seat if an accident occurs. Some people might find this hard to believe. The truth of the matter is that it really can happen.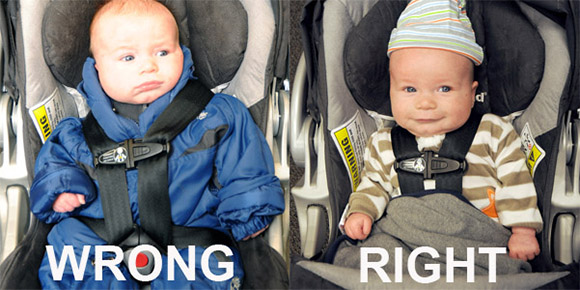 As reported by Rosen, a crash test lab in Michigan proves the dangers of this common practice. Here's the crash test video showing what can really happen if you have your child wear a puffy winter jacket while strapped to a car seat.
Watching a slow motion of the crash test was quite shocking. You can clearly see the potential fatal consequences of what such a mistake can do to a child in the event this happens in real life.
So what should you do? Take off your child's puffy winter jacket before strapping them snugly to their car seat. To keep them warm, you can place the jacket or a blanket over them AFTER you strap them in.
Some parents might complain that it's just so inconvenient to take off a child's jacket prior to strapping them in. However, after watching the video, I'm sure you'll agree that the extra effort is worth it, right? The video clearly shows how dangerous this can be so if your child's safety is your priority, you might like to follow what the safety experts recommend. It simply is not worth risking your child's life.
You might like to learn these other tips to keep your child safe and warm for winter travel provided by Lisa Klindt Simpson, a coordinator at Safe Kids Southeast Wisconsin:
When getting ready to use a car seat in winter, put your child in thin, warm layers such as fleece or Thinsulate.

For rear-facing babies in an infant seat, once the child is snug in the harness, layering blankets over the top of the harness works well.

For older, rear-facing toddlers or for forward-facing children, once the child is snug in the harness you can put the coat on backward over arms and shoulders to keep them warm until the car's heater kicks in.

You can even make a game out of putting on the coat backward! Also, keep a blanket in the car that can be used when the coat comes off.
Did you know that this same advise applies to adults too when it comes to wearing puffy winter jackets and getting buckled up?
Please spread the word about this safety tip and keep every child and person that you know safe.
Did you find the crash test video shocking?

Love This Article? Like Us on Facebook.😀