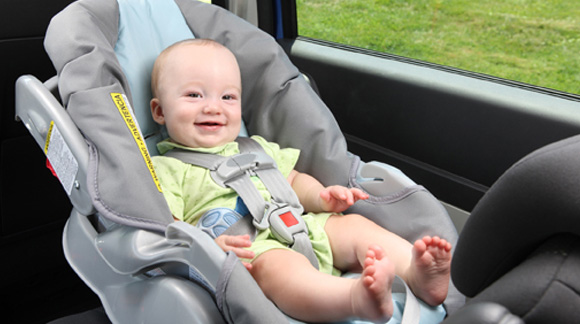 Your baby's safety should always be your top priority when it comes to riding in a car. That said, having the right car seat can really make a major life-saving difference in the event that you and your baby are involved in a vehicular accident.
Rear-facing infant car seats are designed for newborns and small babies.
This is the best seat for a child of appropriate size and weight to use. According to SaferCar.gov:
It has a harness and, in a crash, cradles and moves with your child to reduce the stress to the child's fragile neck and spinal cord.
Now as your baby grows, your child should then transition to a convertible car seat.
A convertible seat allows for children to stay in the rear-facing position longer. In fact, the National Highway Traffic Safety Administration (NHTSA) recommends this:
Keep your child rear-facing as long as possible. It's the best way to keep him or her safe. Your child should remain in a rear-facing car seat until he or she reaches the top height or weight limit allowed by your car seat's manufacturer. Once your child outgrows the rear-facing car seat, your child is ready to travel in a forward-facing car seat with a harness.
This begs the question as to when and why should you transition your baby from a rear-facing car seat to a convertible car seat?
A recent study by Consumer Reports recommends that you transition your baby to a rear-facing convertible seat before age 1 for the following reasons:
5. Convertible seats provide better protection. Consumer Reports recommends transitioning your baby to a rear-facing convertible seat because of a "key potential safety benefit". "We found that in more than half of the infant seats we tested, the 12-month-old child dummy had head contact against the simulated front seatback, which could result in injury. By contrast, in nearly all of the rear-facing convertible seats, the 12-month-old dummy avoided head contact." Source: ConsumerReports.org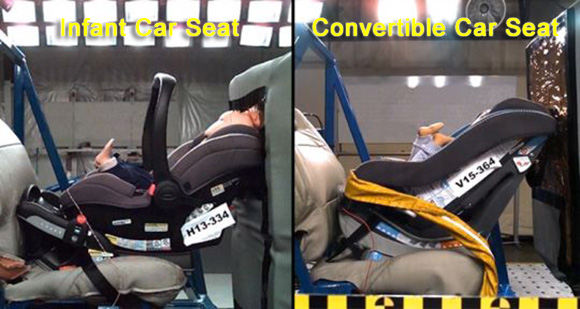 In short, a rear-facing convertible seat provides additional much-needed head protection for your little one in the event that an accident occurs.
When using convertible seats, keep this next reason in mind … see next page.

Love This Article? Like Us on Facebook.