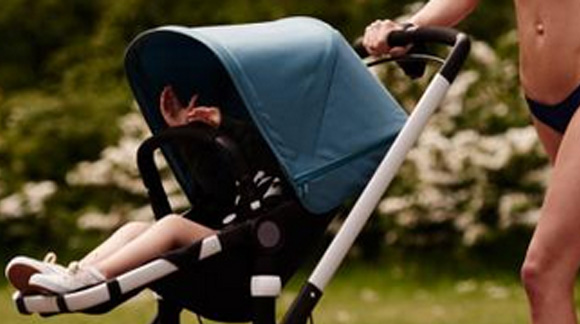 The folks at luxury stroller maker, Bugaboo, sure have marketing sorta figured out with their latest photo on their Facebook fanpage … an image of a jogging stroller being pushed by a super model in her bikinis. Yup, you read that right and I am not kidding.
The image has certainly created some stir and polarizing conversation among moms with some wacky and hilarious comments on Bugaboo's Facebook such as:
I'm not gonna cus her out for what she's wearing but I have 2 children and if was running in this on the school run it would be because I'd forgotten to put my clothes on because we're late for school, my 5 year old had fallen off his scooter, my 2 year old refuses to put his shoes on and there's a good chance I haven't had the time to do my bikini line. There's an image to leave you with.

That's actually my body, just with her head on it. The message here is: staying fit is suuuuuuuuuper easy and if you do not have a Bugaboo then you're stupid.

That top cannot be supporting anything, there is nothing to it! If the image was of her wearing that outfit whilst enjoying a day at the beach or pool then fine it looks appropriate but really, taking a run with ur child in the park???!!!
Want to see the picture that is creating some controversy? Go to the next page.

Love This? Like Us on Facebook.