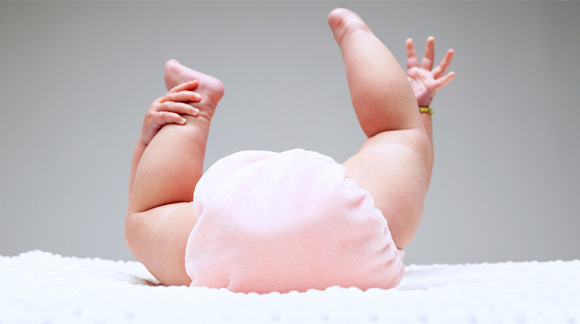 Should you use disposable diapers or go with cloth instead? The choice as to which to use really depends on your priorities, personal preferences, and a couple of baby factors. For some moms, the thought of using and cleaning cloth diapers simply makes them cringe. For some environmentally-conscious moms, the thought of using disposables is a "no-no".
Decades ago, cloth diapers were the norm. Well times have really changed. These days, WebMD estimates that around 95% of U.S. households use disposable diapers.
Disposable diapers come in a variety of options. As a matter of fact, you can choose to use disposable diapers and still go green. Yes, there are now disposable diapers that are actually environmentally friendly. According to parents.com:
… today's options are not only chlorine-, latex- and dye-free, but they also keep baby dry.
So if you're leaning towards choosing disposable diapers, you don't have to worry about the environment because there are some that are pretty eco-friendly. You just need to search for the most eco-friendly disposable diaper out there.
Cloth diapers have also evolved as well as there are various kinds of cloth diapers for you to choose from nowadays. The good thing about cloth diapers is that they aren't as boring as before. They actually now come in exciting colors and designs. According to babycenter.com:
Cloth diapers have come a long way in the past few generations. Modern diapers make it easier than ever to use cloth, whether you pay a service to clean the dirty diapers or wash them yourself.
So the long and short of it is this simple question. Should you go for cloth or disposable diapers?
To help you decide this matter, there are nine things you need to consider before choosing between cloth and disposable diapers. To learn more, turn to the next page now.

Love This? Like Us on Facebook.