This kind of thinking is certainly going to put some innocent baby at risk of getting hurt or killed.
Reason 1. "This is all just fear mongering. Never seen it or heard of it happen."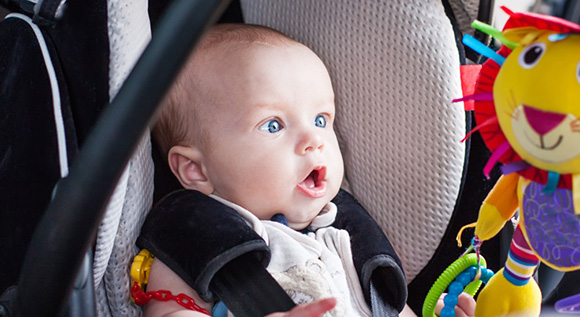 Here are samples of actual quotes.
This really is fear mongering. I've had 3 kids and all I've put the car seat on the cart. None of this makes sense and there is no sign on any cart that I've seen that warned no infant seats. – S.H.

This article is ridiculous!!! It's an unnecessary scare tactic for new parents. Granted, my children are 13 and 15 now. But back then our car seats were designed to mount into the toddler seat of grocery carts. They were strapped in safe and secure. – L.E.

its all just fear pushing. – S.M.

This article is annoying and stupid. I don't even think it's true. Maybe 3 to maybe 6 yr olds that try to hang on the side or front or back. But not an INFANT in a car seat. This article is so dumb. – T.D.
Fatalities and serious injuries to babies as a result of placing a car seat sitting on top of a shopping cart ARE REAL. We are just doing our best to raise awareness about this dangerous practice.
If you still decide to risk your baby's life with this practice, that's really up to you. However, we hope that you would reconsider for your child's sake. Please keep your child safe.
This smart mom sums our point.
It isn't safe period. If you understand the risks and choose to do it anyways, that is your business as a parent, but don't act as though it isn't a risk. It is. Many babies have flipped the cart this way. That is why there are warning on both the cart and in your car seat manual not to do it. If your car seat actually latches to the cart, it could actually damage the seat where it won't be as effective in an actual car accident, the reason you have the car seat to begin with. You do have other options. We all make choices in life. – T.C.
Still not convinced about the dangers of placing a car seat on the shopping cart? You might like to read what some supermarket and retail employees have to say about this:
There was a baby in South Georgia who fell out of a shopping cart like this and died. As a grocery store employee, I will NOT help you to your car with your baby in that position. Your baby, your risk. You won't ruin my life with your carelessness. – J.W.

I am a manager at a store and you would be surprised how often I see car seats flip baskets over , and I have only had one flip due to a child being in the bottom. I ask everyone I see with a car seat on top to move it down and explain to them how often it does happen. – M.P.

For all the ladies saying that car seats clips into the cart. That clip is meant for the base in your car. Using that to clip on the cart will actually damage the mechanism and make it not snap properly back into place. Most car seat manuals will state that in the book. I have worked as cashier I have seen infants get injured and carts turned over. Please baby wear, stroller, or place in the big part of the basket or 2 baskets. What's more important convenience or your child's safety. – N.D.
Please share this article with family and friends who have babies. Let's do our part in preventing another child from getting seriously hurt, or at worst, getting killed.
Do you still plan to risk your baby's life in spite of being made aware of the dangers of placing the car seat on top of a shopping cart? (We certainly hope not.)

Love This? Like Us on Facebook.