Just because your car seat "clicks into" the cart does not mean that it is safe …
Reason 5. "This is so stupid. My car seat latches on (or clicks onto) the cart."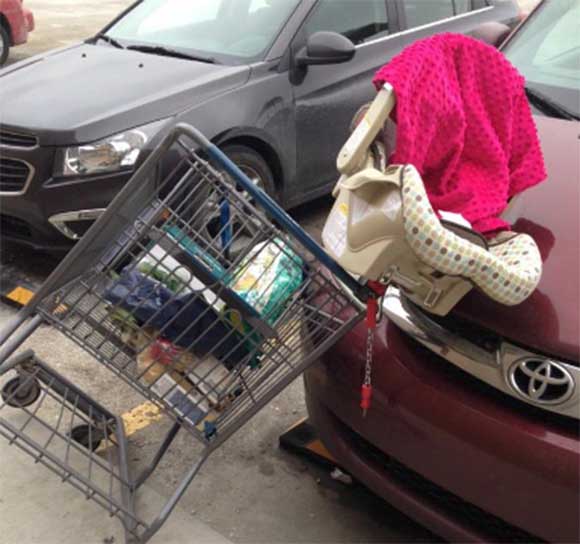 Here are samples of actual quotes.
This is so stupid carseats are made to click onto the back of the shopping car just like they to their base and a stroller. – S.H.

I don't see any problem having a car seat on top as long as it latches on. – M.F.

My car seat latches to the cart. – B.P.

This is stupid. My car seats actually had 2 "slits" in them so they hooked onto the back of the shopping cart "seat" thingy. It would be impossible for it to fall off. – C.M.

This is dumb most name brand carseats are designed to fit properly in the cart and you can fed the lap belt thru the bottom the same you would in the car this is ridiculous. _ P.J.

Car seats today actully snap on to the shopping carts. Yes I know people will say that's not what it's ment for but if u actully look it up some car seats where made to snap onto the shopping cart. – J.P.S.
According to safety expert Debra Holtzman, even if a car seat is is latched or locked on the cart, it still isn't safe. Shopping carts can tip over easily — and they're more likely to if there's a car seat mounted on them.

Holtzman, who is also the author of The Safe Baby, adds:
The cart has a narrow wheel base in relation to its height, so the center of gravity is affected when you put a child in it. When your child's car seat is on top of it, the center of gravity is affected even more, increasing the chances of tipping. Source: TheBump.com
Accidents happen and they do often within seconds … most especially when shopping carts tip over. Within seconds, your life can change completely.
Furthermore, you can damage the car seat's locking mechanism. One mom sums this up perfectly:
Ladies, no your car seat is NOT made to latch onto the cart. What you are doing is potentially damaging the locking mechanisms that latch/attach/lock into your car seat's base. This means that if the locking mechanisms are damaged that in the event of an accident, the locks may fail & your child will be thrown about in the car or even out of it. It is not safe for your child while shopping or later while in the car… Please get over yourselves & your pride & do what you can to protect your children from preventable injury. – B.C.B.
Even if your manual is saying you can lock the car seat onto the shopping cart, this does not necessarily mean that it is a good idea to do so. It's just not safe.
Here is one mother's account of a horrendous accident that she witnessed.
I hope none of you ever have to witness what i did. A mother put her bucket in the seat part. As she went over the bump separating the carpet from tile it hit just right and off the seat went. I still cannot shake the sound of that baby's head hitting the concrete between the bucket and floor. Followed by the screams of a mother who "heard the click". I am pretty sure it had never happened to her in response to the "it never happened to me" ignorance being spewed. Know better, do better. The clips on the seat are meant to secure it to the base in the car. – B.S.
Some even reason out that car seats can protect their babies in case of a fall … see next page.

Love This? Like Us on Facebook.