Some children, believe it or not, lose interest in M&Ms or candies. The key is finding a bribe that your child is really obsessed with.
4. Find the Right Bribe. We tried Cheerios, M&M's, potty charts, cheerleader rants and screams, but nothing worked. My son has always been obsessed with cars and trucks and luckily, the movie Cars had just come out. My husband scoured the local stores to collect all the figurines featured in the movie. We saw the movie, then we told my son that every time he went potty he'd get a car. It was magical. After 15 cars, he was totally potty trained. I'm sure Disney would be so proud. Source: Parents.com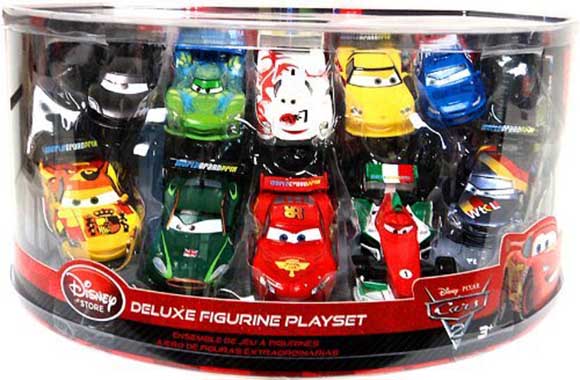 For my little girl who had a fascination for little rubber duckies, this worked like gangbusters.
It did not take her long to get potty trained as long as she was getting her prizes of various colored rubber duckies.
The next tip requires some creativity on your part. Come on mom, I know you have that creative part of you. It's time to bring it out for a great cause.
3. Make The Bathroom Fun. Make it somewhere you could hang out for a while. We made the bathroom Neverland Island. It was our hideout from Captain Hook and Mr. Sme! We made some Paper trees, got a treasure box (See step 5) and parked some of our favorite Jake toys in there with us. Making the bathroom fun gives you more opportunities to want to sit on the toilet and when magic happens "YO HO HO!". Source: TheRealisticMom.com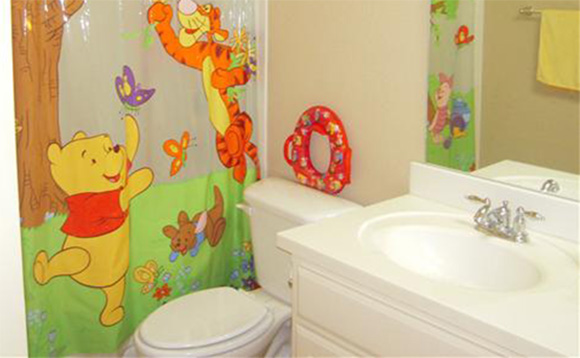 Just make sure when you make your bathroom a fun place to be in to not overdo it or make things permanent. Or else, you might regret it. 🙂
Potty training is a big deal to your little one so don't be stingy on this … make sure that you become your child's biggest cheerleader and supporter.
2. Heap on the Praise. I've heard all the tricks — stickers, bribing with toys, special underpants. But you have to pick something that's consistent with your parenting style. I didn't use rewards elsewhere, so I didn't want to start here. What did work: Lots of undivided attention, positive reinforcement, love, affection and pride when my kids were successful. Making a big deal about small steps of progress is key. Source: Parents.com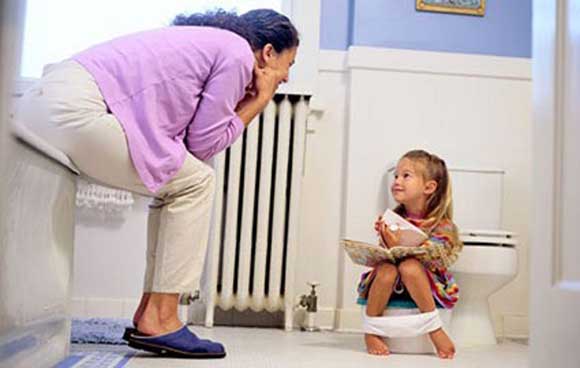 Even have grandma, grandpa, aunts, and uncles (okay aunts and uncles might be over doing it) give your child a call for a job well-done.
Aside from being the biggest cheerleader for your little one, this is the most important tip to remember.
Here's what most battle-toughened, potty-training moms would say, and make sure to take this to heart:
1. Be Patient. Usually children begin showing interest between the ages of 2 and 3. Keep an eye out for common clues, such as your child asking questions about the bathroom and toilet, staying dry for longer periods of time (indicating stronger bladder control), wanting to wear "big kid" underwear, or telling you when she's soiled a diaper. These signs of readiness may intensify gradually or, as Wisconsin mom Tracy M. found, appear quite suddenly: "One day she walked up to me, about three months before she turned three, and said, 'Mommy, I want to wear undies.' And since that day she has." Source: PopSugar.com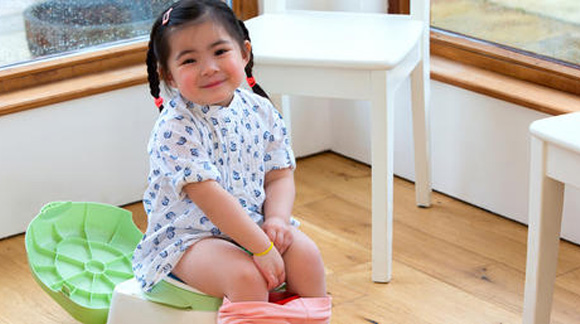 Just remember that your child will potty train when they are ready. When it comes to potty training, each child is different so exercise patience. When things go bad, just add some humor to the situation as your child will eventually get up to speed with his potty habits.
You too can survive potty training so long as you find the right trick to get it done. Keep in mind that what works for other kids might not work for yours.
You really shouldn't compare and feel so bad if things aren't working out so well for you and your toddler. You need all the patience in the world. At the same time, you need to decipher the best time to potty train your toddler. Only you can tell when it's the right time. You should always keep these tried and tested tips in mind.
Thanks to the parents who have shared their tried and tested potty training tips. I'm sure you you'll find some use for them too.
Do you have a potty training tip you can share?

Love This Article? Like Us on Facebook.
Leave A Comment Here
comments